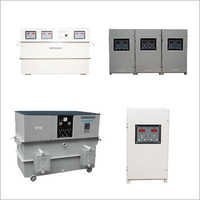 Servo Voltage Stabilizer
Price And Quantity
Product Specifications
AC

220 V to 240 V AC in 1Ph 380 V to 415 V AC in 3Ph Volt (V)
Servo Voltage Stabilizer

Manual
50 Hertz (HZ)

240 Volt (V)
Product Description
Servo Voltage Stabilizer
As electronic devices and equipments work within a specific voltage level, they can be easily damaged when voltage fluctuation occurs. To avoid this damage, a voltage stabilizer is required. This Servo Controlled Stabilizer is a reliable product widely used for stable power supply. This Three and Single phase stabilizer is reckoned in the market for sturdiness, reliability & roughness.

Technical Specifications



Input Voltage Range

Ranges as per customer requirement AC 50 Hz 3 PH

Frequency

47Hz to 53 Hz

Output Voltage

220V / 230V / 240 VAC 1PH 380 V / 400 V/ 415 V AC 3Ph

System

Balanced/ Unbalanced 2/4 Wire : R Y B N

Connections

Star

Output Voltage Adjustable

220 V to 240 V AC in 1Ph 380 V to 415 V AC in 3Ph

Output Voltage Regulation




1%

Over Load Capacity

120%

Correction Rate

15 V / 20 V / 35 V / Sec-1Ph
25 V / 35 V / 60 V / Sec-3Ph

Waveform Distortion
Output Waveform

True Reproduction of Input

Insulation

Class ''B''

Short CKT Period & percentage

300 % for 250 m.sec.

Temperature Rise

0oC to 55oC

Climatic Conditions

90 % RH.Max.Non-Condensing at 35o C

Cooling

Air / Oil

Mode of System

Fully Automatic / Manual

System Construction

AS PER IS : 9815 of 1994
Capabilities:


0.5 KVA to 60 KVA I PH
1.5 KVA to 2000 KVA 3 PH
Standard Protections:


Low voltage protection
High Voltage protection
Overload Protected with MCB / MCCB or Electronic Sensing.
Single Phasing Preventer
Panel Indications:


Input on
Output on
Input low
Input high
Output Cut-off
Panel Meters:


Volt Meter with Selector Switch to read Input/output Voltages, phase to phase and phase to neutral.
Ammeter With Selector Switch (From 15 KVA 3Ph onwards).
Optional Accessories:


Input under/over voltage Trip
Output under /over Voltage alarm
Digital voltmeter /Ammeter
Frequency meter ( Digital /Analog)
Frequency Trip high /Low Adjustable (With setting thumb Wheel switch)
MCB/MCCB FOR OUTPUT
Dimmer Protection Arrangement
Phase Reversal Protection
Energy Savings:
Better efficiency of 98% achieved by use of prime grade Lamination.
Electrolytic copper wires of 99.99% purity.
Specially designed transformers to minimize losses.
ALSO, Special sensing circuit to ensure constant Output Voltage even with distorted input from D.G. set. Tropicalised design
Quick Response

Quickest response time 10 ms. (half a cycle)

High Overload capacity

Higher overload capabilities for high starting and regenerative currents repeated frequency as in CNC Machines.

Fast Correction
No Hunting, No Oscillations,

Fastest rate of correction up to 60 V/sec.

No Noise Generation

Machine Wound Variable Auto Transformer, with special Carbon Brush to minimize carbon deposit and for smooth commutation.
Special Features For Three Phase Servo Voltage Stabilizer
Applications :


Photostat Machine
Computer
Xerox Machine
Medical Equipment
Laboratories
Process Control Devices
Telecom Base station
Broadcasting Station
CNC Machine Etc.

Features :
Ideal for unbalance load & voltage
LED Indication : For each phase at our of input acceptance voltage
Set Voltage : Facility for each phase in the range of 20volts
Overload & Short CKT Protection : Provided with the help of 3 pole MCB or Contactor in case of Electronic Sensing
Over / Under Voltage Trip Provided at output side
Time Delay : 15 to 30 seconds for output supply to ON
Phase to Phase Voltmeter with selector switch
Reset : Auto
Auto / Manual : With increase / decrease facility in manual mode in each phase
Single phasing prevention : Provided with help of MCB or Contactor.
Indication : Input ON, Output ON & on each phase Input out of acceptance voltage range
AC Synchronous motor operated variac
Trade Information
Andhra Pradesh, Arunachal Pradesh, Andaman and Nicobar Islands, Assam, Nagaland, Meghalaya, Odisha, Manipur, Mizoram, Tripura, Sikkim, East India, Bihar, Jharkhand, West Bengal
Contact Us
312, Ashoke Road, Ganguli Bagan, Garia Kolkata West Bengal India +918068341828
Phone :+918068341828